Buy or Lease a New 2015 Prius Liftback and get a $500 Amazon.com Gift Card*
0% APR for 60 months plus $1,000 TFS Bonus Cash available for well qualified credit customers that finance through Toyota Financial Services **
Or lease a New 2015 Prius Liftback model #1223 for as low as $199/month for 36 months, with $1,999 Drive off (reflects $2,000 TFS lease cash applied to payment)**
All new Toyotas come standard with ToyotaCare no cost maintenance plan with roadside assistance.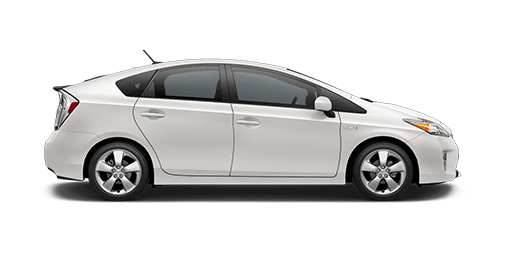 Claim This Offer
* Indicates a required field
Disclaimers
*Amazon.com is not a sponsor of this promotion. Except as required by law, Amazon.com Gift Card ("GCs") cannot be transferred for value or redeemed for cash. GCs may be used only for purchase of eligible goods on Amazon.com or certain of its affiliated websites. For complete terms and conditions, see www.amazon.com/gc-legal. GCs are issued by ACI Gift Cards, Inc., a Washington corporation. All Amazon ®, ™, & © are IP of Amazon.com, Inc. or its affiliates. No expiration date or service fees. **Limited term financing through Toyota Financial Services (TFS) to qualified Tier 1+ and Tier 1 credit customers only. 0% APR includes 60 monthly payments of $16.67 per $1,000 borrowed. For example, 10% down. Down payment varies with credit. Bonus cash valid in combination with APR program through TFS. Must take delivery from new car dealer stock by midnight 11-30-2015. All prices shown exclude all dealer fees. Plus tax and license. Individual dealer prices vary. See dealer for details. ***Lease example for a new 2015 Prius model #2015 Models 1223. Security deposit waived. Plus tax and license. Individual dealer prices vary. Lessee responsible for maintenance, excess wear and tear, and pays $0.15 per mile for all mileage over 12,000 miles per year. Lessee to pay $ 199 a month for 36 months with $ 1999 drive-off. Payment may vary depending on model, equipment choice, and final transaction price. Lease cash, if advertised, is only valid in combination with lease program through TFS. Must be leased from new car dealer stock by 11-30-2015. Offers cannot be combined. See your Toyota Dealer for Details.ToyotaCare covers normal factory scheduled service. Plan is 2 years or 25K miles, whichever comes first. The new vehicle cannot be part of a rental or commercial fleet, or a livery/taxi vehicle. See participating Toyota dealer for plan details. Valid only in the continental U.S. and Alaska. Roadside Assistance does not include parts and fluids. Lease cash valid in combination with program through Toyota Financial Services (TFS). See your dealer for details.
TERMS AND CONDITIONS:
Offer valid on any new, unused and unlicensed, MY15 Toyota Prius Liftback vehicle out of dealer stock during the program period andregistered with the appropriate state motor vehicle department. Fleet purchasers are excluded.
Applicant must have a valid, government issued photo ID.
Vehicle must be purchased or leased from a franchised Toyota Dealer in the Los Angeles Region.
Privacy: All submissions become the property of Toyota will not be returned. Any personally identifiable information, including withoutlimitation, your name, address (including postal code), telephone number and/or email address, that you submit in connection with the ToyotaOffer herein, will be used and collected by Toyota and shared with Amazon for fulfillment of the Offer only.
RELEASE: By completing this form, to the maximum extent permissible under applicable law, you agree to release and hold harmlessAmazon, Toyota, their parents, subsidiaries, affiliates, directors, and officers from any and all liability or any injuries, loss or damage of anykind arising from or in connection with the Toyota Offer herein. In releasing claims unknown to you at present, you are waiving all rights andbenefits under Section 1542 of the California Civil Code, and any law or legal principle of similar effect in any jurisdiction: "A general releasedoes not extend to claims which the creditor does not know or suspect to exist in his or her favor at the time of executing the release, which ifknown by him or her must have materially affected his or her settlement with the debtor."
LIMITATIONS OF LIABILITY: To the maximum extent permissible under applicable law, neither Toyota, nor Amazon shall be responsible forany: (i) incorrect or inaccurate information in the Toyota Offer or administration of the Toyota Offer, including, but not limited to, errors inadvertising, these Terms and Conditions, or approval or rejection of the Offer submission; (ii) unauthorized human intervention in any part ofthe Toyota Offer; (iii) electronic transmission errors resulting in omission, interruption, deletion, defect, delay in operations or transmission, orfor technical, network, telephone equipment, electronic, computer, hardware or software malfunctions or limitations of any kind, or inaccuratetransmissions of or failure to receive information due to technical problems or traffic congestion on the Internet or at any website or anycombination thereof, Web site users, tampering, hacking or by any of the equipment or programming associated with or utilized in the ToyotaOffer; (iv) technical or human error which may occur in the administration of the Toyota Offer; (v) lost, delayed, late, damaged, misdirected, orundeliverable mail or e-mail; (vi) lost, late, incomplete, inaccurate, stolen, misdirected, undelivered, damaged, garbled, or illegible SubmissionForms, Your Submission not received for any reason, Your Submission that has postage due, or is not uploaded in accordance withinstructions; (vii) condition(s) caused by events beyond their control; or (viii) injury or damage to persons or property including, but not limitedto death, which may be caused, directly or indirectly, in whole or in part, from your participation or acceptance or receipt of the Toyota Offer.NOTWITHSTANDING ANYTHING TO THE CONTRARY CONTAINED HEREIN, TO THE MAXIMUM EXTENT PERMITTED BY LAW, IN NOEVENT WILL TOYOTA OR AMAZON BE LIABLE FOR ANY CONSEQUENTIAL, INCIDENTAL, INDIRECT, PUNITIVE, EXEMPLARY ORSPECIAL DAMAGES OR LOSSES OF ANY KIND (INCLUDING LOST PROFITS) RELATING TO THE TOYOTA OFFER AND/OR THESETERMS AND CONDITIONS, INCLUDING BUT NOT LIMITED TO, CLAIMS ARISING FROM BREACH OF CONTRACT, BREACH OFWARRANTY, TORT (INCLUDING NEGLIGENCE, PRODUCT LIABILITY OR STRICT LIABILITY), OR ANY OTHER THEORY OF LIABILITY,REGARDLESS OF WHETHER YOU WERE ADVISED OR HAD REASON TO KNOW OF THE POSSIBILITY OF SUCH DAMAGES INADVANCE. NOTWITHSTANDING ANYTHING TO THE CONTRARY CONTAINED HEREIN, TO THE MAXIMUM EXTENT PERMITTED BYLAW, IN NO EVENT SHALL TOYOTA OR AMAZON'S LIABILITY UNDER THESE TERMS AND CONDITIONS AND/OR WITH RESPECT TOTHE TOYOTA OFFER EXCEED THE AMOUNT OF THE TOYOTA OFFER ($1000) .
GOVERNING LAW: The Toyota Offer and these Terms and Conditions will be governed by and construed in accordance with the laws of theState of California, excluding conflicts of law rules. You hereby agree that the state courts, and the United States federal courts, that arelocated in Orange County in the State of California shall each have subject matter jurisdiction hereunder and personal jurisdiction over each ofthe parties hereto. You hereby consent thereto, and hereby waive any right you may have to assert the doctrine of forum non conveniens orto object to venue to the extent that any proceeding is conducted in accordance with the foregoing provision.
SURVIVAL: The provisions of Sections 4 through 9 shall survive the completion, cancellation or termination of the Toyota Offer.
ACCEPTANCE OF TERMS AND CONDITIONS: By providing Your Submission, you fully and unconditionally accept, and agree to be boundby these Terms and Conditions. You further acknowledge that the Toyota Offer is contingent upon fulfilling all the requirements set forth herein.If you do not agree to any of these Terms and Conditions, then please do not provide Your Submission.
Applications for payments must be received at the Toyota LA Region on or before deadline below:Deadline: December 10, 2015.
Offer void where prohibited.
Ineligible sales:

All category "J" vehicle sales.
Vehicles reported sold during the program period and subsequently rolled back.
Vehicles sold in violation of Toyota's export policy.
Vehicles traded from one dealership to another are ineligible for the trading (sending) dealership.
All vehicles sold to conversion companies.
Vehicles sold to a broker, used-vehicle dealer, or any other reseller that are not delivered to the ultimate consumers during the programperiod.
Vehicles that are not officially registered with the appropriate state motor vehicle department.
Vehicles utilizing dealer or other similar plates which preclude the need to register the individual vehicle with the appropriate state motorvehicle department
Vehicles placed in dealer demo service.
Vehicles purchased through authorized Toyota auctions.
For Sales/Travel contests, sales of more than 20 vehicles of the same series/model to any one account in the same program month.The following sales will be ineligible unless explicitly approved by Toyota Motor Sales, U.S.A., Inc.
Vehicles registered to any Toyota distributor or dealership or to any business corporation in which any Toyota distributor or dealershiphas ownership interest.
Vehicles sold to a Distributor-owned or Dealer-owned rental company.
Sales of more than 20 vehicles of the same series/model to any one account in the same program month.
All requests are subject to audit.
All matters of program eligibility and qualification will be conclusively resolved by Toyota Motor Sales, U.S.A., Inc.
Toyota Motor Sales reserves the right to change product specifications at any time without incurring obligations.
One reward Visa card request per VIN. Unwound units resold by the same dealer code will not qualify for a second Visa card.